Member Profile: Charles Tapp
MEMBERSHIP SPOTLIGHT
This month we caught up with member Charles Tapp, overseer at Newcastle Waters Station on the Barkly Tablelands, NT.
Where are you based?
I live and work on Newcastle Waters station which is 400km southeast of Katherine.

Why are you a YLEN member?
I became a YLEN member to meet like-minded people and to be a part of the training and programs which they provide.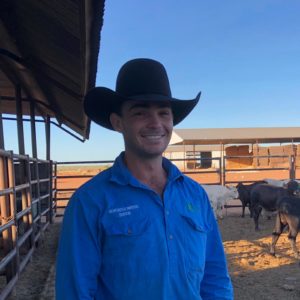 What do you do for an occupation?
I am an Overseer of the Newcastle Waters breeding herd.
Tell us about your connection to the Agricultural Industry?
I grew up on a cattle station on the Roper River, before moving to Queensland when I started high school. Most of my family are still involved in the agricultural industry and I returned to the Northern Territory full time in 2019 to work for CPC.
What excites you about the Young Livestock Exporters Network?
YLEN excites me because of the number of enthusiastic young people who are coming together to help each other learn and become better leaders.

Tell us one interesting fact about you?
An interesting fact about me is I that I have travelled to 12 countries.

What did you do in your role today in the live export supply chain?
Today I organised 3 teams of people to maintain our fences, and packed up for the Daly Waters campdraft which helps staff morale!