Member Profile: Regan Lynch
MEMBERSHIP SPOTLIGHT
This month we caught up with member Regan Lynch, a registered vet working in Central Queensland, who has recently been named a 2023 Nuffield Australia Scholar.
Where are you based?
Hughenden, North West Queensland.
Why are you a YLEN member?
I'm passionate about the northern beef industry and getting the next generation excited about it too.
Tell us about your connection to the agricultural industry.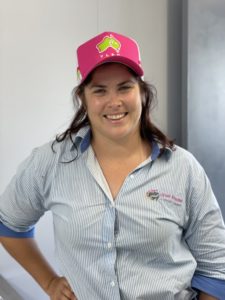 I grew up in a domestic pig and beef abattoir in Far North QLD. My family has beef operations in NW QLD and NT.  During university I worked on beef properties and in my local export yards. 
What do you do for an occupation?
I currently work as a mixed animal vet servicing over 16 million hectares in North West QLD. My day can go from testing bulls, to speying cats, to health checking camels.
What excites you about the Young Livestock Exporters Network? 
The diversity in our industry and how it drives us all forward to produce the best results for our industry. It is amazing to be in a room full of people who share your passion.
Tell us one interesting fact about you.
I've recently been awarded a Nuffield Scholarship to research biosecurity attitudes and practices within Northern Australia's beef industry. It is an amazing opportunity, and I am so grateful to my investors – Animal Health Australian and Plant Health Australia for making it happen!
What did you do in your role today in the live export supply chain? 
Today my work focuses on providing services to the producer and biosecurity work. Our reputation for clean, green beef starts at the paddock and I love being able to ensure the best possible cattle hit the market with market assurances.