Member Profile: Charlie Vaughan
MEMBERSHIP SPOTLIGHT
Meet Charlie Vaughan, Northern QLD Vet
Where are you based?
Townsville, QLD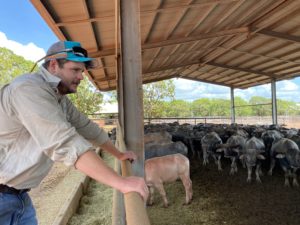 Why are you a YLEN member?
I am new to the industry without an existing network, and it was an obvious choice to increase the chance of meeting like-minded people to learn from and socialise with. But then, once paid up, the litany of other benefits such as personal development opportunities and being part of a formal body to represent interests in the industry became apparent, ensuring a membership renewal for years to come.
What do you do for an occupation?
I am the Queensland Operations Coordinator for Australian Cattle Enterprises as well as a sole trading Cattle Veterinarian focusing on services to the pastoral and export sectors throughout Northern Australia.
Tell us about your connection to the Agricultural Industry?
I was born to a mixed farmer/grain trader and an animal health officer, so agriculture was and has been a centre point to my upbringing and life thereafter. Boarding school and the associated urban vortex probably dragged me away from a little bit shortly after school, a stint jackarooing and then returning to university to study veterinary science whilst managing a rural retail business. The connection was well and truly reinstated. Harvests and contracting filled in nearly all spare time away from uni, not already doing a degree associated placement. Toward the end of my degree, contracts were drawn to begin pastoral services and export work as a vet, but the advent of COVID put a spanner in the works and instead, I went to manage a cropping development in Far North Queensland and try and make it on my own as a cattle vet on the side. But once I saw the potential in a position with ACE based in Townsville, I pursued it and subsequently, it allowed me to enter the export supply chain on a permanent and frankly life-changing basis.
What excites you about the Young Livestock Exporters Network?
I've been guilty at times of letting my passion for ag escape to unwilling ears after a few too many barley-based refreshments. Still, I think the most exciting thing about YLEN is that these (passionate, one way) conversations are often reciprocated rather than met with the polite nod of a head whilst an escape plan is generated to get away from the clown banging on about anything from SE Asian markets to land clearing and everything in between.
Tell us one interesting fact about you?
I can't think of one, really, but I suppose something that not many people would know nor associate me with is a touch of artistic flair… I was once the recipient of a studio arts award and initially left school to study architecture.
What most excites you about the future of Agriculture?
Everyone's got to eat, and we can always strive to do better, whether it's welfare, efficiencies, PR or education. It's not going to get boring for a long time yet.