Member Profile: Issy McLinden
MEMBERSHIP SPOTLIGHT
This month we caught up with member Issy McLinden, sheep wrangler turned stock-hand at Tipperary Station in the Daly Region, NT!
Where are you based?
I am based in the Northern Territory on a Cattle Station that is surrounded by Daly River and Litchfield Station
Why are you a YLEN member?
Being a YLEN member gives you opportunities to connect with others in the Agriculture Sector and is always bringing around exciting opportunities for learning and development.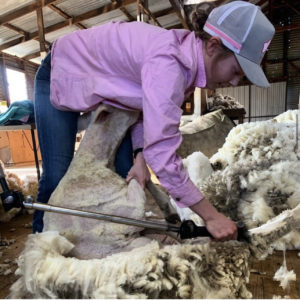 What do you do for an occupation?
I was always interested in agriculture when I lived down in Victoria but knew that I wanted to be a part of such an amazing industry, so I moved to the NT to start my career in agriculture.
Tell us about your connection to the Agricultural Industry?
I am working as a station hand, mustering and processing cattle.
What excites you about the Young Livestock Exporters Network?
YLEN is an exciting network as it was created by young people for young people. It is fully tailored to build and develop as well as build connections and relationships in the export industry.
Tell us one interesting fact about you?
Previously I haven't done much full time work in the agriculture industry, much like a lot of school leavers I was pushed in the university direction of nursing and completed a year before deciding it wasn't for me. I've done other jobs such as education support and medical admin but none seemed to suit the lifestyle I wanted. Now I've moved onto a station, its waking up every morning to a job that isn't a run of the mill, 9-5 job.
What did you do in your role today in the live export supply chain?
Working in the cattle yards processing cattle, ensuring they are healthy and handled properly.