Member Profile – Hugh Dawson
Hugh Dawson
Head Stockman - Beetaloo Station, NT
How did you get into the Live Export Industry?
I more or less fell into the industry when I began working on a cattle station in 2016. Almost immediately I fell in love with the lifestyle and was amazed at the opportunities available for young people to cultivate a career in the North Australian Cattle Industry. Looking to gain a greater understanding of the industry as a whole, I joined the Young Livestock Exporters Network in the hope I could round out my knowledge of the live export supply chain.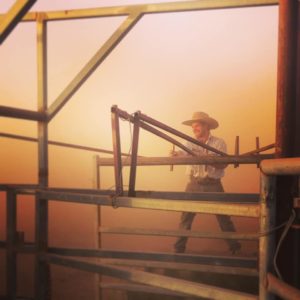 What does a typical day in your role involve?
I could be doing anything from mustering, maintaining station plant and machinery, processing breeder mobs, drafting and trucking sale cattle, fabricating equipment to be used on the property, servicing and repairing MONO bore equipment as well as a swag of other activities. One of the reasons I love my job is there is no typical day, even with a rough plan we have to be highly adaptive and improvise often which provides endless challenges that are highly rewarding to overcome.
If you could give one piece of advice to someone starting in the industry what would it be? 
Say yes (within reason). I believe you will frequently surprise yourself by stepping up to challenges you may feel are out of your depth. Even if you find you don't succeed initially, you will grow and understand where you can make improvements to overcome the primary challenge. Sign up for as many representative and development roles as possible. I am still blown away at how many opportunities there are available for young people looking to cultivate a career in this industry. Contacts are invaluable in unlocking these opportunities, so it is essential to get yourself as much exposure to leading industry figures as possible.
Why do you enjoy working in live export?
As a producer, I find it extremely rewarding to see improved animal handling techniques reciprocate through the supply chain to improve the overall standards for animal welfare, safety and efficiency on a global scale. Also appreciating we are supplying some of the fastest growing economies with clean disease-free beef is something I am very proud of and I feel is something Australia as a nation should be extremely proud of also.
What do you hope to get out of YLEN?
I have already been extremely lucky to have been afforded a number of opportunities since having been a member of YLEN. A highlight for me was the 'Mates to Managers' workshop with Jill Rigney which I found to be an extremely beneficial program to develop leadership, management and negotiation skills – all essential skills necessary to effectively manage a team. As I also made mention earlier, I believe contacts are invaluable when developing a career or even cutting your teeth in the industry. The YLEN leadership group boasts extensive knowledge of the industry and have been an incredible and diverse support network whenever I have needed advice or assistance.