Member Profile: John Wakefield
MEMBERSHIP SPOTLIGHT
This month we caught up with member John Wakefield, a cattle truck owner/operator based in Katherine, NT.
Where are you based?
Katherine, NT.

Why are you a YLEN member?
I joined YLEN to help build my network, and stay up to date with industry information.
Tell us about your connection to the Agricultural Industry?
I grew up on a beef feedlot in southern NSW, came up to the NT ringin' with Heytesbury for a couple of years, and now been in trucks with Schubert's transporting export cattle for 7 years.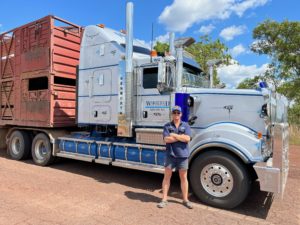 What do you do for an occupation?
I recently bought a truck, and tow a set of cattle crates for Schubert Livestock Transport.
What excites you about the Young Livestock Exporters Network?
Meeting good people that are passionate about the same industry I am.

Tell us one interesting fact about you?
I love trucks ha ha.

What did you do in your role today in the live export supply chain?
Today, I was delivering cattle to East Arm Wharf in Darwin where they we being loaded onto the "Nine Eagle", a live export ship.