Member Profile: Katie Knarston
MEMBERSHIP SPOTLIGHT
This month we caught up with member Katie Knarston,  a kiwi whose fallen in love with life on a station in the East Pilbara.
Where are you based?
Yarrie Station in the East Pilbara, but home for me is the Deep South of NZ.
Why are you a YLEN member?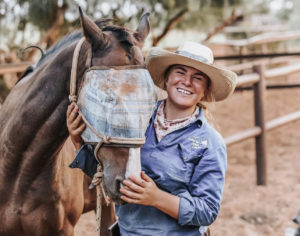 It's a great community to be apart of, very resourceful and a transparent network showcasing the awesome industry we work in; from people who just love doing what they do. I enjoy keeping up to date with news and events within the industry, and the career development opportunities.
Tell us about your connection to the agricultural industry.
I grew up on my family's organic sheep farm in New Zealand, my first job as a toddler was chief gate opener so I've progressed with a natural passion for agriculture ever since then. I'm very lucky to have grown up on the land, helping Dad on the farm and running around free range. I studied Agriculture at Lincoln University which opened many doors and connected me with a very cool bunch of like-minded people.
What do you do for an occupation?
I work at Yarrie during the mustering season and head down to our southern cattle property over the summer/wet season.
What excites you about the Young Livestock Exporters Network? 
I think (and most members will probably agree) it's the networking and opportunities that are offered. There are a lot of like minded young guns coming together, which is doing great things for the industry and wider public. I'm hoping I can get to a YLEN event sooner or later and meet some of you!
Tell us one interesting fact about you?
At the end of 2019 I went on an agribusiness tour of China, it was an eye opening experience to say the least but very cool to see the other end of the export chain and where our meat and other primary exports end up.
What did you do in your role today in the live export supply chain? 
As I write this I'm pulled up on a creek with my horse, we're mustering a beautiful part of Yarrie with artefacts scattered over the place, it's a pretty special! We will pick up cattle very shortly (hopefully) and for some of them it will be their first leg of their journey to live export.