Member Profile: Lach McClymont
MEMBERSHIP SPOTLIGHT
This month we caught up with member Lach McClymont,  Station Manager in the beautiful West Kimberley's with his little family.
Where are you based?
Kalyeeda Station West Kimberley
Why are you a YLEN member?
To support the Live Ex industry, keep up to date with news and views and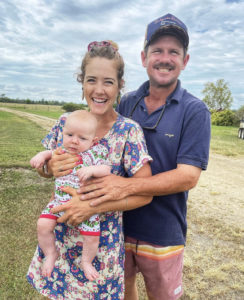 to take advantage of the professional development courses that YLEN offers.
Tell us about your connection to the agricultural industry?
I have a long connection to Agriculture being a 5th generation cattleman having grown up with Sheep and Cattle in southern Qld.

What do you do for an occupation?
Station Manager at Kalyeeda Station

What excites you about the Young Livestock Exporters Network? 
I'm excited by the future industry leaders that YLEN, through their professional and personal development courses, is helping to create.
Tell us one interesting fact about you?
I always found great enjoyment out of driving somewhere on my own. I enjoy the time to myself to plan and question.
What did you do in your role today in the live export supply chain? 
Today we are processing our first mob of male weaners for a pain relief trial being held here at Kalyeeda. This is our second year for the trial (which is facilitated by DPIRD) where we are using a variety of pain relief methods including meloxicam and Trisolfen during castration and dehorning.