Member Profile: Melyn Byrne
MEMBERSHIP SPOTLIGHT
This month we caught up with member Melyn Byrne, who works in an export licensed processing plant, shipping beef internationally to over 30 countries.
Where are you based?
I was born and raised in far North West NSW, and have not long moved home from South West VIC.
Why are you a YLEN member?
I became a member of YLEN to meet like-minded people who have a passion for not just live export but for agriculture as a whole and to network with the people who are the future of our industry.
Tell us about your connection to the Agricultural Industry?
I come from a farming family, I was always tagging along with dad or pop and my brothers any chance I got. I was always the weird kid at school that just wanted to talk about her cows, I'm also the 3rd generation in my family to work in the meatworks and grew up showing cattle.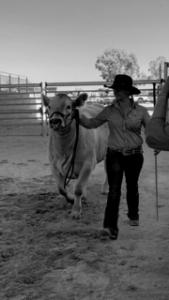 What do you do for an occupation?
I started off my agriculture career at the ripe old age of 15, straight out of school and straight into the meatworks. I spent quite a few years there before heading off on an adventure to the Hamilton/ Warrnambool region of Victoria. During my time in Victoria I had the amazing opportunity to work as a livestock agent in the Nutrien Network, however I came back to NSW to pursue something a little more beef focused and am now a carcase data analyst in an abattoir, I also have cattle of my own- mainly breeders at the moment, I have picked a steer out of the paddock to have a date with the freezer very shortly though!
What excites you about the Young Livestock Exporters Network?
YLEN brings together brilliant people who share a variety of experiences across the industry and with the people I've met, or even read about on YLEN social media, I'm confident the future of agriculture is in good hands.
Tell us one interesting fact about you?
I'm not sure you'd call it interesting but I count both sheep and cattle either in 3's or as they come, it's just what works best for me. I can't actually count in 2's without missing some ha ha.
What did you do in your role today in the live export supply chain?
My days usually start about 4:30am with a cup of coffee (or a cup of ambition if you're a Dolly fan) I get into work about 5:30 and get my whites on and head up to the slaughter floor. I set up my computer and make sure I have all the correct information on the kill schedule before I start. I watch the animals go through the entire floor, where they come to me for a final check over for any contamination/defects as well as getting all relevant information put into the computer so a daily report can be compiled. My day usually wraps up between 3-4 and then I could have some work to take home or I could have coursework to do, it really just depends.