Member Profile: Mia Doering
MEMBERSHIP SPOTLIGHT
Meet Mia 

Doering
Where are you based?
Just recently, my partner and I traveled to Geraldton to commence a seasonal harvest contract. Usually, we call Broome home, and we love to travel and work all around Kimberley, WA. My family home is near Moree, NSW, where we own and run a mixed farming operation and a Santa Gertrudis stud. We have also expanded into Qld, where we have backgrounding and breeding blocks to run our stud and commercial herds.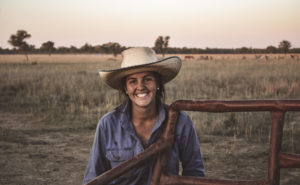 Why are you a YLEN member?
I became aware and more involved with the Live Export industry during my gap year on a remote cattle station in the Kimberley. My passion for the beef industry grew, as did my interest in the marketing of livestock in the north, particularly regarding market specifications and consumer preferences.
What do you do for an occupation?
I'm currently completing my third year of a dual degree in Agribusiness and Sustainable Agriculture. For the past 18 months, I have been studying online remotely, whilst also contract mustering, station admin/procurements, and now contract to harvest!
Tell us about your connection to the Agricultural Industry?
I can proudly say that I was born into the Ag industry. I have always been Dad's right-hand girl and the farming/ grazing gene is strong in the blood. Ultimately, I hope to take over our family business, but in the interim, I am happy building on my experiences and taking every opportunity presented to me.
What excites you about the Young Livestock Exporters Network?
Hands down – the opportunities that YLEN has to offer! I am very grateful that I was selected to partake in the Mates to Managers program – something I highly recommend. Equally important, though, is the connection of members in this network. It highlights how amazing the young people at the forefront of our industry really are, and YLENs member profiles always inspire me.
Tell us one interesting fact about you?
I got sick from Q-fever when I was 7 years old, which landed me in ICU for a week – just from helping Dad in the yards pulling a calf. I understand why the beef industry recommends getting the vaccination for people who work in this field, and I regularly encourage people to get vaccinated.
Where is the first travel destination post covid?
As cliche as it sounds, I'm busting to get home! With the strict border closure in WA, I haven't been able to make it home for quite a few milestone events, so I'm very excited to catch up with family and friends when it all becomes possible. As for international travel, I have been planning a trip to the US for a few years now. I'm eager to see the American ranches, feedlots, steakhouses, and I will definitely be excited to see a few rodeos while I'm over there too!