Member Profile: Pernille Neilson
MEMBERSHIP SPOTLIGHT
This month we caught up with member Pernille Neilsen, a professional handballer turned desert stockwoman!
Where are you based?
I'm living and working at New Crown Station which is located south of Alice Springs.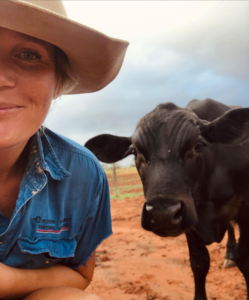 Why are you a YLEN member?
I'm a member of YLEN so I can connect with peers from the industry and get access to the different courses, events and other professional development opportunities. I've only been working in the agriculture industry for a year, so this has been a great opportunity for me to meet like minded and gain new knowledge.
What do you do for an occupation?
I've grown up at a farm in Denmark with pig and crop production, so I've always been a country girl. But it was first when I did my 88 days of farm work at a cattle station in the Outback NT that I got introduced to the Australian livestock industry. I felt in love with the lifestyle straightaway and I'm so grateful that I today am able to work in an industry that feeds the world and offers so many exciting opportunities!
Tell us about your connection to the Agricultural Industry?
I'm working as a station hand / all rounder which means my job is very variated and no day is the same. Job duties can include everything from mustering, drafting and processing cattle, bore runs, fencing, road works, shed work and helping our mechanics to get trucks and road trains ready. However, there are also days where I'll be helping out with gardening or cooking if our domestic crew needs an extra hand. Station life is all about teamwork and helping each other out!
What excites you about the Young Livestock Exporters Network?
YLEN is a fantastic network where you can get access to a wide range of events and be able to meet and get inspired by many different people from the whole livestock supply chain.
Tell us one interesting fact about you?
I'm a former professional European Handballer and have been working in the sports and advertising industry for 10 years. When COVID hit I had the opportunity to change career pathway and move back to the country side after been living and working in the city for a decade. I hope this journey can inspire others as my experience has taught me that the agriculture industry is for everyone. So long you have a willingness to learn and the right attitude it doesn't matter what gender you are, how old you are, age, what experience you got or where you are from.
What did you do in your role today in the live export supply chain?
Today started at 5.30am with morning coffee followed by a debrief on today's jobs from my manager.
My duties included a south borerun in the morning. At my station we are lucky to have farmbot water sensors installed at most bores, which gives us live updates on the water levels in the tanks and make my job as a borerunner easier. From my app I can see how much water there is in each tank and if the water level goes up or down.
However, sometimes I still have to go out manually to check for e.g poly leaks, that no cattle are stuck in throughs or fences are busted.
After lunch I had to help our mechanics getting our truck and road train ready to go south to Adelaide with sales cattle. This sounds like an easy job, but always take a lot of time as you'll have to check all tyres, breaks, lights and loading ramps are working correctly. But it's pretty rewarding once the 3 trailers are loaded with cattle and leaving the yards!