Member Profile – Jim Teasdale
Jim Teasdale
Operations Manager, Napparoy Agriculture 
How did you get into the Live Export Industry? 
My involvement initially started when tagging and scratching sheep on-farm for Saudi when that was going well. Later I was in Broome waiting for the wet to wind up and was asked to sail on the Becrux on its first shipment out of Townsville.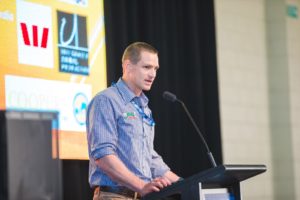 What does a typical day in your role involve?
We have a very small team so I have the privilege (or challenge) of being involved at all levels including buying, marketing, contract writing and negotiations, budgets and cash flow, governance, compliance and documentation, planning and overseeing loading ships or aircraft, visiting or hosting customers, etc.
If you could give one piece of advice to someone starting in the industry what would it be? 
Take every opportunity to draw on the knowledge and experience of those around you. But don't just limit that to those within our tight-knit industry circles keep looking outside to broader industry experience in animal nutrition, welfare, handling, and technology.
Why do you enjoy working in live export?
I enjoy the diversity of experience, working, and building relationships with people in different communities and cultures and the need and opportunity to continually find new and better ways to improve performance and overcome (seemingly never-ending) challenges, from day today. No two days are the same, it's challenging but never boring.
What do you hope to get out of YLEN?
I think basic training around feedlot animal nutrition and health would be helpful to most people and combine these with social events to create opportunities for sharing and normalizing that knowledge across the industry.