Yudhistira Pratama Sutrisna
Chief Supply Chain Officer, based in Indonesia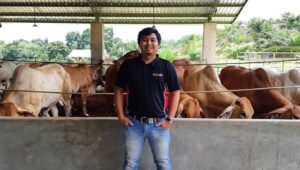 How did you get into the Live Export Industry?
When I was doing my 5th semester in Animal Husbandry of Padjadjaran University, which is located in Bandung-Indonesia, I had a chance to join the NTCA Indonesia-Australia Pastoral Program in 2013. I was selected nationally and became one of the 20 participants. This gave me the opportunity to experience life and work on a pastoral station in Australia which was a great education for me.
As part of the NTCA program, I had the chance to represent the other students along with 2 of other participants to meet the Australian Prime Minister at that time, Julia Gillard. We flew from Darwin to Canberra and met the PM and this meeting made me realize that this is a really important industry for both countries.
During university, I spent a lot of my time in a university club which focuses on learning and helping cattle and buffalo farmers, it's called Cattle and Buffalo Club. In this community, I learn a lot also about how to look after the cattle, learn the feedlot business model, and welfare of the cattle.
Then 2 weeks before graduation day, I was told that there was an opportunity to assist an exporter with their operations in Indonesia. I joined Halleen to help deliver their ESCAS program and have been working for them since February 2015 until now.
What does a typical day in your role involve?
Every day is different, and every day is challenging. My position now is as Chief Supply Chain Officer for Halleen Australasian Livestock Traders Pty Ltd, an exporter based in Perth, WA. I work together with the ESCAS Manager to follow up tasks day by day for all Supply Chain Officers in the market, especially in Indonesia. I travel to a lot to different cities, provinces, islands, and countries. Meeting the importers, contacting their Animal Welfare Officers, and visiting the ESCAS approved facilities for monitoring, these are my main activities.
In a year, we run several training programs as part of our responsibility to maintain the skills of people in the supply chain. This is usually for animal handling and slaughter process. I am feeling prepared to deliver the training with my qualification based on several pieces of training I did, from Stunning Operator, Halal Slaughterman, Shipboard Stockperson Training Course and Certificate II in Agriculture, Charles Darwin University.
Now, I also get involved in Public Relation for Forum AWO Indonesia. It's a non-profit organization and communication group for Animal Welfare Officers who are involved in the Indonesian live export industry. This forum has done several training sessions together. Last month we have done Webinar Refresh Training with LEP-MLA. More than 100 participants joined the sessions from all regions in Indonesia, like Sumatera, Java, and Kalimantan.
If you could give one piece of advice to someone starting in the industry what would it be?
Working in this industry needs a lot of passion and hard work. Building good communication with people is one of the keys. The last one, do not ask what your company gives you but ask yourself what you give to the company.
What is your career goal?
I always want to contribute more to the industry where I am now. Focusing on what I am doing, be consistent, and persistent. Upscaling and upgrading my skills and knowledge so I can spread it out to the others are my goals.
Where do you want live export to take you?
Since I been working in this industry 5 years ago, there are always new challenges and opportunities. Hoping this industry will continue, develop, and have a good impact on its people.
Why work in live export?
Live export is a unique and dynamic industry. What I am responsible for now, to make sure good animal welfare is implemented in the market, is really a good responsibility. For me, it's also part of my religious responsibility to maintain good animal welfare standards are in place. Halal and Thoyyiban Concept includes how we treat the animal, implementing good slaughtering practices, and handling the cattle with respect. It's the same practice as in ESCAS.